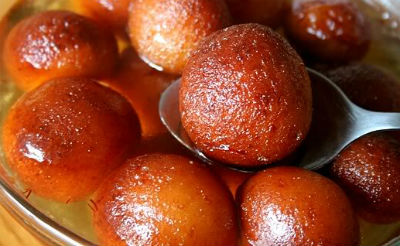 Ingredients:
Urad Dal 1 cup
Toor Dal – 1 tsp
Sugar – 2 cups
Rose Essence – 2 drops
Cardamom Powder – 1/4 tsp
Oil for frying
Method:
1. Soak the dals for 30 minutes in water.
2. Grind them together till a thick and lightly sticky consistency is achieved.
3. Heat oil in a frying pan.
4. Drop small balls of the ground batter and fry them till golden brown or lightly brown.
5. Boil water in a pan and add sugar.
6. Add the rose essence and cardamom powder.
7. Boil for another minute or two.
8. Drop the jamuns in this sugar syrup and keep aside.
9. After a few hours, serve them in small cups.
Tip: You can keep the jamuns in sugar syrup either inside the fridge or outside. If kept inside a fridge, they might become slightly hard.
Note: image is for illustration purposes only and not that of the actual recipe.