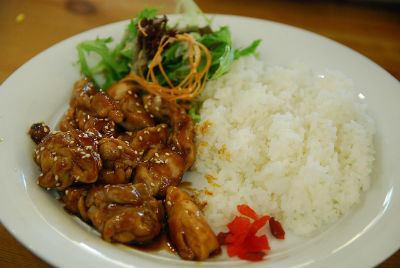 Ingredients:
Rice – 1/2 cup, cooked, kept warm
Water – 1 1/4 cups
Chicken Breasts – 225 gms, cubed
Mushrooms – 125 gms, caps removed, thinly sliced
Chinese Cabbage – 1, small head, finely chopped
Red Capsicum – 1, small, deseeded, sliced
Onion – 1, small, sliced
Green Peas Pods – 1/2 cup, stems and strings removed
Teriyaki Sauce – 1/4 cup
Soy Sauce – 1/8 cup
Ginger – 1/2 tsp, grated
Sunflower Oil
Cornflour – 1/4 cup
Method:
1. Mix the teriyaki sauce, soy sauce and grated ginger in a bowl.
2. Keep aside.
3. Mix the chicken pieces with the cornflour.
4. Heat little oil in a large pan over medium flame.
5. Cook the chicken pieces for a minute on each side or till cooked.
6. Remove and drain excess oil.
7. Keep very little oil in the pan and remove the rest.
8. Add the mushrooms, cabbage, capsicum and onionss.
9. Cook for 5 to 8 minutes or till slightly soft.
10. Now add the pea pods and cook for a minute or two.
11. Add the sauce mixture (step 1) and cook for a minute or till warm.
12. Add the chicken pieces and stir well.
13. Serve warm with cooked rice.