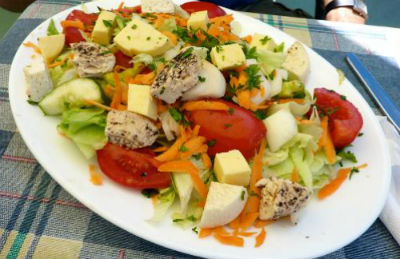 Ingredients:
Goat's Cheese – 100 gms, rind removed, cut into 4 round slices
Red Capsicum – 1, small, deseeded, finely chopped
Red Onion – 1, small, cut into fine rounds
French Tarragon – 1 tblsp
Parsley – 1 tblsp
Mint Leaves – 1/2 tblsp
Mixed Salad Leaves – 75 to 100 gms, shredded
Honey Ham – 50 gms, cut into long strips
For the dressing:
Wine Vinegar – 1 tblsp
Dijon Mustard – 1/4 tsp
Olive Oil – 2 tblsp
Salt as per taste
Pepper Powder as required
Method:
1. Mix vinegar and salt with mustard.
2. Gradually add olive oil and pepper powder.
3. Keep aside.
4. Keep the salad leaves in a bowl and half of the dressing.
5. Toss well to coat.
6. Grill the cheese for a minute and place on top of the salad leaves.
7. Sprinkle the capsicum, onion, ham, mint, tarragon and parsley over it.
8. Drizzle the remaining dressing and serve.
Image credit: frommers

Subscribe to our Newsletter
Receive the latest recipes & kitchen tips !