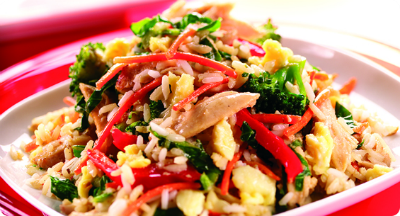 Ingredients:
Basmati Rice – 1 cup, cooked and refrigerated overnight
Egg – 1, medium
Vegetable Oil – 3 tblsp
Mushrooms – 1 to 2, cut into small slices
Chinese Cabbage – 1/8 cup, finely sliced
Light Soy Sauce – 3/4 tsp
Mung Bean Sprouts – 75 gms, washed, drained
Spring Onions – 2, finely sliced
Red Capsicum – 1/4, diced
Method:
1. Heat 1 tblsp of oil in a pan over medium flame.
2. Stir fry the mushrooms for 20 to 30 seconds and remove to a plate.
3. In the same oil, stir fry the cabbage and capsicum for a minute.
4. Transfer to the mushroom plate and sprinkle 1/3 tsp of soy sauce.
5. Add the remaining oil to the pan and add the rice.
6. Quickly stir and make a hole in the centre.
7. Break an egg into the hole and stir the egg inside the hole.
8. When it is slightly set, mix it with the rice.
9. Stir fry the rice for a minute.
10. Add the bean sprouts and cook for 3 to 5 minutes.
11. Add the spring onions, mushrooms, cabbage and capsicum.
12. Sprinkle the remaining soy sauce and stir well.
13. Cook for a minute or two.
14. Serve at once.