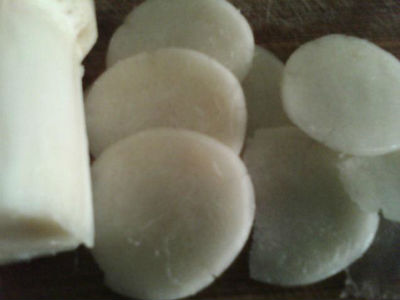 Ingredients:
Plantain Stem – 1 medium size (slender one)
Red chilies – 2
Salt as per taste
Urad Dal – 1 tsp
Mustard – 1/2 tsp
Oil – 2 tsp
Coconut – 1 tbsp, gratings
Curry Leaves – few
Method:
1. Wash and remove the outer cover of the plantain stem. Cut into round slices and remove the thread and chop into small pieces. Keep it in diluted buttermilk to avoid discoloration and keep it aside
2. Heat oil in a pan over medium flame.
3. Fry the mustard seeds till it starts to splutter.
4. Add chilies, urad dhall and curry leaves
5. Fry till dals turn golden brown.
6. Add cut pieces of plantain stem, salt and cook.
7. Cover the pan with a lid and cook for a few minutes till it becomes soft
8. Keep stirring from time to time.
9. When all the water has been absorbed add grated coconut and mix well
10. Remove to a serving bowl.
11. Serve.