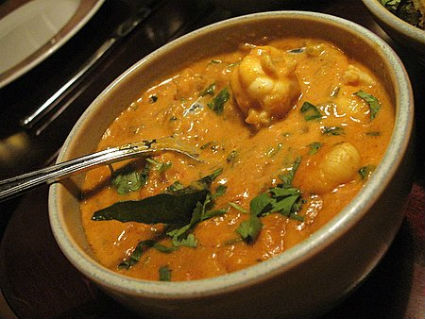 Ingredients:
Lobsters – 7 to 8, cracked
Coconut Oil – 3 to 4 tblsp
Onions – 3 to 4, finely sliced
Green Chillies – 10, slit lengthwise
Turmeric Powder – 3 tsp
Garlic Cloves – 3, sliced
Curry Leaves – handful
Coconut Milk – 4 to 5 cups
Coriander Leaves – handful, for garnishing
Salt – 2 to 3 tsp or as per taste
Method:
1. Heat oil in a pan over medium heat.
2. Saute onions, green chillies and garlic.
3. Add half of the curry leaves and cook.
4. When the onions become translucent, add turmeric powder and salt.
5. Add coconut milk and reduce heat to low.
6. After a minute, add the lobsters and cook for 7 to 10 minutes.
7. Allow it to simmer gently over low-medium heat.
8. In a separate pan, fry the remaining curry leaves.
9. Garnish the lobster curry with the curry leaves and coriander leaves.
10. Transfer to a serving bowl.
11. Serve hot with plain cooked rice.
Note: image is for illustration purposes only and not that of the actual recipe.