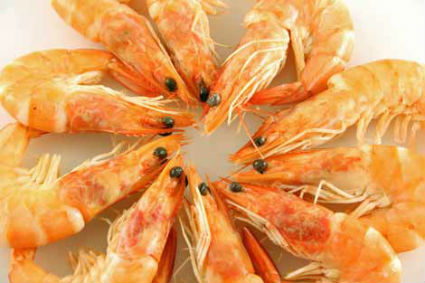 Ingredients:
Prawns (Chemmeen) – 1 kg, cleaned
Basmati Rice – 4 cups, soaked in water for 3 hours
Coconut – 2, grated
Egg – 3, whisked
Cardamom – 4
Ghee – 100 gms
Red Chilli Powder – 2 tblsp
Turmeric Powder – 1 tsp
Onion – 1 kg
Ginger Garlic Paste – 2 tsp
Green Chillies – 10 to 12
Tomatoes – 2, chopped
Coriander Powder – 2 tsp
Coriander Leaves – handful
Ghee – 2 to 3 tblsp
Salt as per taste
Method:
1. Extract 1 cup of thick coconut milk and then second and third milk from the remaining grated coconut.
2. Mix the second and third milk with rice and grind to a fine paste.
3. Add the thick coconut milk, egg, salt and cardamoms.
4. Mix well to a little thinner consistency than a dosa batter.
5. Marinate the prawns with chilli powder, turmeric powder and salt.
6. Fry and keep aside.
7. Heat ghee in a pan.
8. Saute onions for a minute.
9. Add ginger garlic paste.
10. Add tomato and saute well.
11.When the ghee starts to separate, add coriander powder, coriander leaves and prawns.
12. Reduce flame and cook for 10 to 15 minutes.
13. Heat water in a steamer and when it starts to boil, place a pan greased with ghee.
14. Pour a ladle of the batter and cook.
15. Once cooked, add 2 to 3 tblsp of the prawn masala and spread evenly.
16. Pour a little batter over and spread.
17. Once cooked, add another 2 to 3 tblsp of prawn masala.
18. Repeat the process until the batter and masala are used up.
19. Steam cook for 30 to 45 minutes.
20. Remove and cool before cutting it into desired shapes.
21. Serve.
Note: image is for illustration purposes only and not that of the actual recipe.