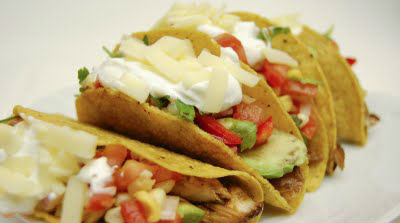 Ingredients:
Tortillas – as required
For the Filling:
Chicken Breasts – 2 to 3, boneless and skinless
Olive Oil – 1 tbslp
Zest of 1 Lemon
Garlic – 1 clove, minced
Salt
Ground Pepper
For Garnish:
Lime Wedges
Onion – 1, chopped
Coriander Leaves
Method:
1. Slice the chicken breasts horizontally into 2 pieces of same thickness.
2. Transfer them to a bowl.
3. In an another bowl, mix the olive oil, lemon zest and minced garlic.
4. Pour this over the chicken pieces and coat well.
5. Cover and keep it in the fridge to marinate for 5 to 6 hours.
6. Cook the chicken pieces on a grill for a minute or two.
7. Turn them over and cook the other side for a minute.
8. Transfer to a cutting board and cut them into 1/4 inch strips and then into 1 inch long pieces.
9. Arrange the chicken pieces on a tortilla.
10. Garnish with chopped onion, coriander leaves, salsa and lime wedges.
Tip: To check if the chicken has cooked through, cut the chicken and if the insides are still pink, cook it for 1 or 2 minutes more.