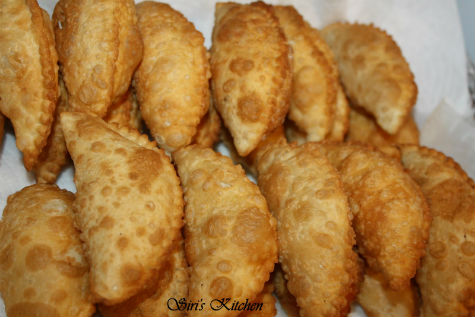 This is a famous sweet made in Andhra Pradesh.
Ingredients:
For the Dough:
Ghee – 1 1/2 cups
Flour – 1/2 kg
For the Filling:
Chana Dal – 1/2 kg
Kopra – 2, grated
Cardamoms – 18 to 20, finely powdered
Powdered Sugar – 1/2 kg
Sesame Seeds – 2 tblsp, dry roasted
Ghee – 650 to 700 gms, for frying
Method:
1. To make the dough, warm the ghee in a pan.
2. Pour it on the flour and knead into a little stiffer dough.
3. For the filling, pound the chana dal slightly coarse.
4. Mix the dal, kopra, cardamom powder with sugar and sesame seeds.
5. After 2 hours, knead doughh well and roll out into rounds, just like for puris.
6. Put the filling in the centre.
7. Dampen the edges of the puri.
8. Fold it over, keeping the filling inside to make a half moon shape.
9. Press edges together to seal.
10. Deep fry in oil over medium heat till golden brown.
11. Remove and drain.
12. These stay good for a month.
image credit: sirishaskitchen.blogspot.in