Kaju Katli (also known as Kaju Barfi or Cashew Burfi) is a very popular Indian sweet often made during Diwali or during festive/special occasions.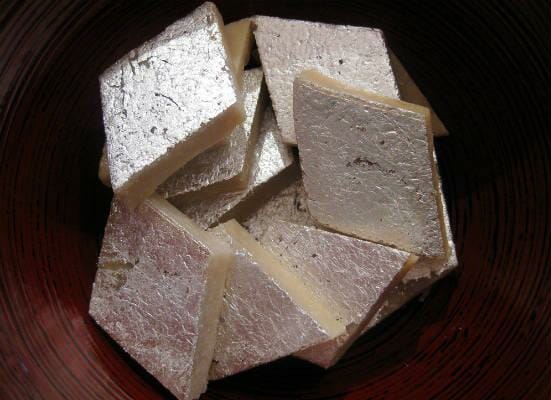 Ingredients:
Cashew Nuts – 2 cups
Sugar – 1 cup
Milk – 2 tblsp
Ghee as required for greasing
Water – 1/2 cup
Edible Silver Foil to garnish (optional)
Method:
1. Grind the cashew nuts to a smooth powder.
2. Heat water in a pan over medium flame.
3. Add the sugar and stir continuously until fully dissolved.
4. Bring to a gentle boil until it reaches an one string consistency.
5. Add the cashew powder and stir well.
6. After 5 to 10 minutes or when the mixture starts to thicken, remove from flame and transfer to a large plate or bowl.
7. Allow it to cool slightly.
8. When it has cooled enough to handle, knead the mixture well.
9. Flatten the dough (you can use a rolling pin) and transfer to a greased plate.
10. Using a rolling pin, gently roll until it evenly spread out on the plate.
11. Allow it to cool completely.
12. Using a sharp knife, cut them into diamond shapes. Spread the silver foil on top.
13. Store them in an airtight container.
Note: In some places, the cashew nuts are soaked, drained, peeled and then ground to a paste.