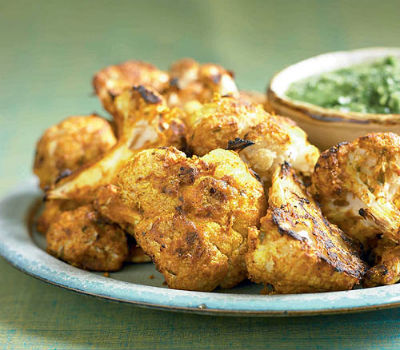 Ingredients:
Cauliflower Florets – 400 gms, washed, dried
Besan Flour – 2 tblsp
Red Chilli Powder – 1 tsp
Tomatoes – 1, wedged
Cucumber – 1, small, sliced
Chaat Masala – 2 tsp
Juice of 1 Lemon
Salt as per taste
Oil
Method:
1. Mix salt, chaat masala and lemon juice.
2. Add the cauliflower florets and marinate for 15 to 30 minutes.
3. In another bowl, mix the besan flour with 1/4 cup of water to make a smooth batter.
4. Add salt and red chilli powder. Mix well.
5. Heat oil in a frying pan over low flame.
6. Dip the marinated florets in the batter and fry in hot oil.
7. Remove and keep aside to cool.
8. Skewer the florets and roast in a preheated oven at 140C/275F for 8 minutes.
9. Baste with oil and keep in the oven for another minute or two.
10. Remove and serve with sliced cucumbers and tomato wedges.