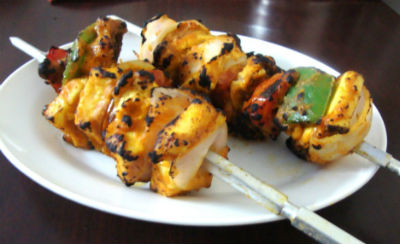 Ingredients:
Chicken Breasts – 1 kg, cut into boneless cubes
Lemon Juice – 1 tbsp
Garlic Paste – 3 tbsp
Salt to taste
Paneer – 150 gms, grated
Cream – 4 tbsp
Corn Flour – 1 1/2 tbsp
Green Chilli Paste – 2 tsp
White Pepper Powder – 1 tsp
Green Coriander -1 tbsp, chopped
Butter for basting
Method:
1. Marinate chicken in lemon juice, garlic paste, and salt mixture for 1 hour.
2. Mix paneer, cream, corn flour, green chilli paste, white pepper powder and green coriander in a bowl.
3. Whisk till smooth.
4. Marinate chicken in this mixture for at least 3 hours.
5. Skewer chicken 2 cm apart and roast in a preheated oven (180C/350F), oven/ tandoor/ grill for 8-10 minutes.
6. Baste with butter and roast for another 3 minutes or until golden in colour.
7. Garnish with tomato, onion and cucumber slices.
8. Serve hot with mint chutney.
Note: image is for illustration purposes only and not that of the actual recipe.