Vindaloo is typically a non-vegetarian dish from Goan cuisine with roots dating back to the Portuguese occupation. This is a vegetarian version where the meat is substituted with regular potatoes and sweet potatoes cooked with a variety of spices. Serve this with pulao, biryani or any rice dishes.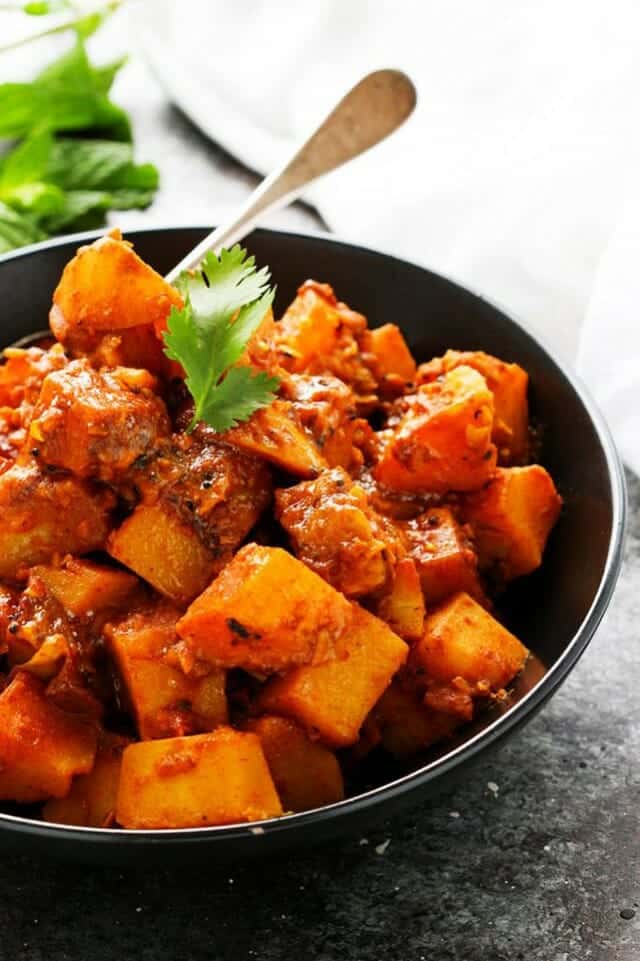 Ingredients:
Potatoes – 225 gms
Sweet Potatoes – 225 gms
Onion – 1, finely chopped
Garlic – 5 cloves, minced
Red Chilli Powder – 2 to 3 tsp
Cumin Powder – 1/2 tsp
Cardamom Powder – 1/3 tsp
Pepper Powder – 1/4 tsp
Clove Powder – a pinch
Water – 1 to 1 1/4 cups
Mustard Seeds – 1 tsp
Bay Leaf – 1
Tomatoes – 250 gms, boiled, peeled and diced
Red Wine Vinegar – 1 1/4 tblsp
Coriander Leaves – handful
Oil – 3 tsp
Salt as per taste
Method:
1. Wash and cut the potatoes and sweet potatoes into small/medium cubes, about 1/2 inch pieces. Boil the tomatoes, peel the skin and dice them.
2. Heat oil in a broad pan over medium flame.
3. Add the onions, potatoes, sweet potatoes and a pinch of salt.
4. Cook until the onions and potatos begin to soften, appoximately 10 minutes.
5. Add the minced garlic, red chilli powder, cumin powder, cardamom powder and clove powder.
6. Stir to mix well.
7. After a minute or two, pour the water and mix well, scraping up any browned bits.
8. Add the mustard seeds, bay leaf and some more salt as per taste.
10. Cover the pan with a lid.
11. Simmer over medium-low flame for about 10 to 15 minutes or until the potatoes are tender.
12. Add the tomatoes, vinegar and stir.
13. Simmer for another 10 to 15 minutes or until the sauce has thickened slightly.
14. Discard the bay leaf.
15. Season with salt and pepper powder.
16. Garnish with coriander leaves.
17. Serve.