A popular Goan dish that can be served with rice or with a salad as a side dish.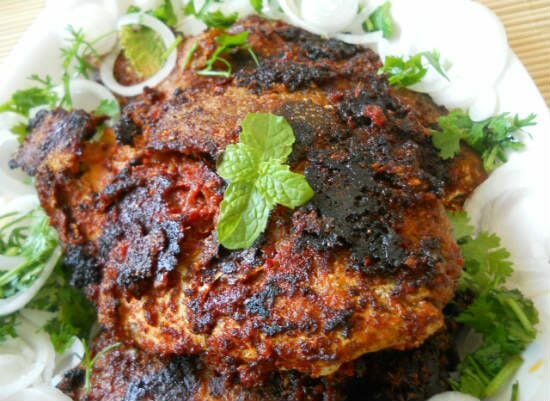 Ingredients:
Whole Pomfret – 2, cleaned, washed
Kashmiri Red Chillies – 15 to 18, broken
Ginger – 1 inch piece, chopped
Garlic – 2 to 3 cloves
Cumin Seeds – 1 1/2 tsp
Black Peppercorns – 5 to 6, whole
Tamarind Extract – 1 tblsp, thick
Vinegar – 2 tblsp (malt or cider)
Salt as per taste
Oil – 1 cup or more for frying
Onion rings to garnish
Method:
1.  Make a few slits on the fish including the sides of the fish.
2. Add the red chillies, cumin seeds, garlic, ginger and peppercorns to a bowl.
3. Add the tamarind pulp and vinegar.
4. Gently mix well and keep aside for 15 minutes.
5. Then grind them to a smooth paste with 1 or 2 tblsp water.
6. Season with salt and mix.
7. Rub this all over the fish, ensuring the fish is completely covered and the insides also stuffed.
8. Keep the fish in the fridge for 20 to 30 minutes.
9. Heat oil in a nonstick pan over medium flame.
10. Fry the marinated fish until golden brown or for 10 to 15 minutes, turning once or twice.
11. Remove and transfer to a plate.
12. Garnish with onion rings and serve hot.
Tip: You can also use any other fish instead of pomfret.