Thattai is a popular traditional South Indian snack. It is made during festive occasions and as a regular evening snack item, it is one of the easiest and fastest snack to make. This variation uses Kodo Millet (Varagu Arisi) as the base.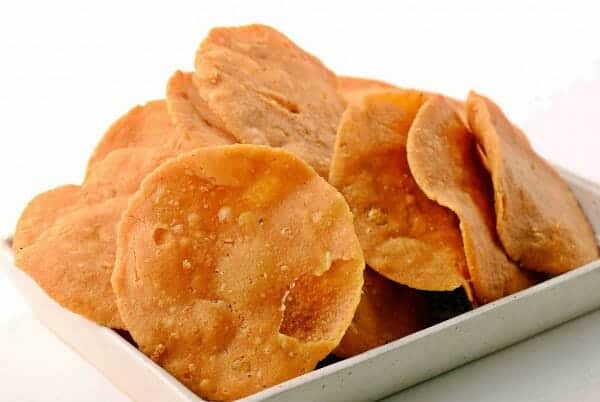 Ingredients:
Varagu Arisi (Kodo Millet) – 1 cup
Roasted Gram – 1/4 cup
Bengal Gram Dal – 2 tblsp
Coconut – 1/4 cup, grated
Red Chilli Powder – 1 tsp
Asafoetida Powder – 1/4 tsp
Oil as required
Salt as per taste
Method:
1. Soak the varagu arisi for an hour or two.
2. Drain well, add some salt and grind to a thick paste.
3. Soak the bengal gram dal for 30 minutes. Drain well and keep aside.
4. Grind the roasted gram to a fine powder.
5. Combine the varagu batter, roasted gram powder, bengal gram dal, coconut, red chilli powder, salt and asafoetida powder.
6. Sprinkle little water and mix well.
7. Make small balls and flatten them on a plastic sheet.
8. Heat oil in a deep frying pan over medium flame.
9. Fry the prepared thattais until golden brown.
10. Remove, drain excess oil and serve as a snack.
image via delight foods