Poondu Milagu Jeeraga Rasam (Garlic Pepper Cumin Rasam) is a popular South Indian rasam variety. A flavourful rasam that is helpful in relieving cold, it is best served with hot rice.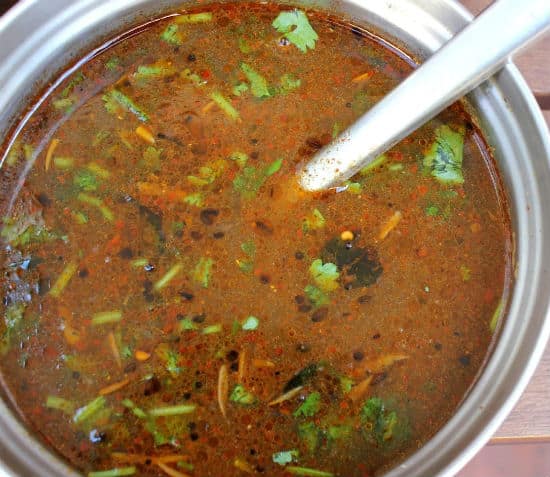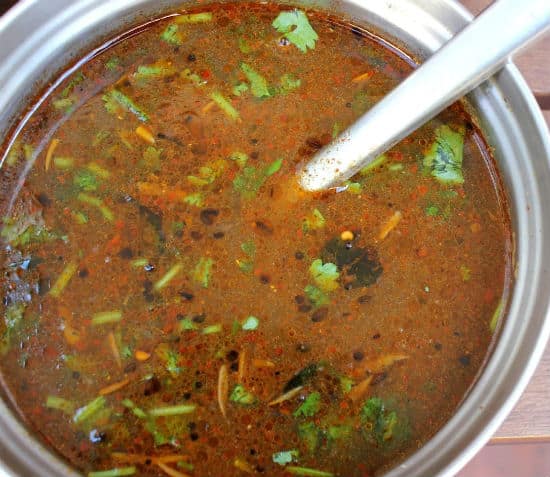 Ingredients:
Garlic – 10 to 12 cloves, peeled
Tamarind – 1 small orange sized ball, seedless
Mustard Seeds – 2 tsp
Black Peppercorns – 2 tsp
Cumin Seeds – 2 tsp
Toor Dal – 2 tsp
Asafoetida Powder – 1 tsp
Curry Leaves – handful
Ghee – 1 1/4 tblsp
Salt as per taste
Coriander Leaves – little (optional)
Method:
1. Heat little ghee in a small frying pan.
2. Add the garlic, peppercorn, cumin seeds and toor dal.
3. Fry for a minute and then grind them finely.
4. Add enough water to tamarind and extract 1 to 1 1/2 cups of tamarind water.
5. Add the ground powder and place it over medium flame.
6. Add salt and simmer.
7. Add curry leaves and stir.
8. Fry the asafoetida powder and mustard seeds in remaining ghee.
9. Add to the rasam.
10. Remove the rasam from the flame after 5 minutes.
11. Garnish with coriander leaves if desired.
12. Serve with hot rice.
image via youtube