Kanda Poha (Kande Poha) is a very popular Maharashtrian breakfast dish. It is also served as an evening snack or even as a light dinner.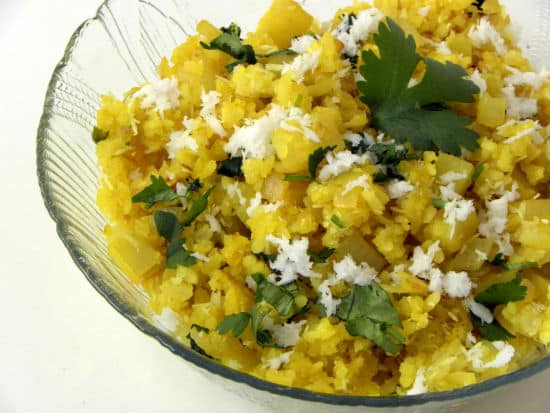 Ingredients:
Poha – 1 cup
Onion – 1, finely chopped
Potato – 1, small, boiled
Green Chillies – 2, small, chopped
Lemon Juice – 1/2 tsp
Sugar – 1 tsp
Turmeric Powder – 1 tsp
Asafoetida Powder – 1/8 tsp
Mustard Seeds – 1/2 tsp
Kopra (Copra/Dry Coconut) – 2 tsp, grated
Coriander Leaves – handful, chopped
Oil – 1/2 tsp
Salt as per taste
Method:
1. Soak the poha for 15 to 30 minutes.
2. Heat oil in a pan over medium flame.
3. Fry the mustard seeds and asafoetida powder for 20 seconds.
4. Add the green chillies, onions and saute for a minute.
5. Add the boiled potatoes, sugar, salt and turmeric powder.
6. Drain and squeeze out any excess water from the poha and add to the pan.
7. Add lemon juice and stir well.
8. Add the grated kopra and coriander leaves.
9. Stir again and cook for a minute.
10. Switch off the flame.
11. Serve.