Karasev is a popular crunchy savoury snack in South India.  An easy snack for any occasion and festivals, this is a must during Diwali.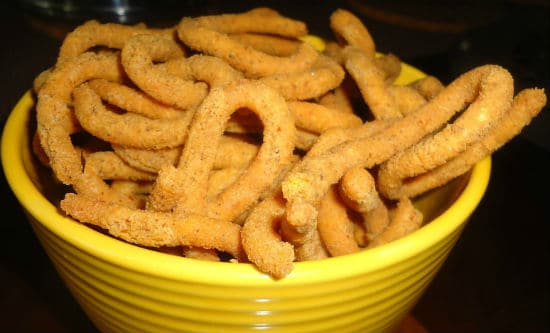 Ingredients:
Bengal gram flour – 2 1/2 cups
Rice flour – 1 cup
Pure Ghee – 1 tsp
Cooking soda – a pinch
Powdered salt – 1 1/2 to 2 tsps
Oil for deep frying
Grind to smooth paste:
Long red chillies – 10
Garlic – 3 flakes
Black pepper – 1 tsp
Method:
1. Sieve bengal gram flour, rice flour together.
2. Add salt and mix it in a bowl.
3. Rub ghee and soda together till frothy on a flat plate.
4. Add this to the flour and mix well till it blends properly.
5. Mix ground paste with this and divide the flour into 3 parts.
6. Sprinkle water to each portion separately to prepare dough just before frying.
7. Take a handful of dough. Using the karasev ladle rub the dough with hands on top of the ladle by keeping it directly on hot oil, so that long pieces of dough falls into the hot oil.
8. Turn once or twice in the oil and fry till crisp.
Note: wipe the ladle with a wet cloth each time. Otherwise the dough may stick to the holes and when it dries, it will be difficult to rub the dough again on the ladle during next time.