A classic Punjabi dish made with spinach and potatoes. There are quite a few variations of this dish depending on where you go, but typically it is served as a side dish with rice, roti, naan or pulao.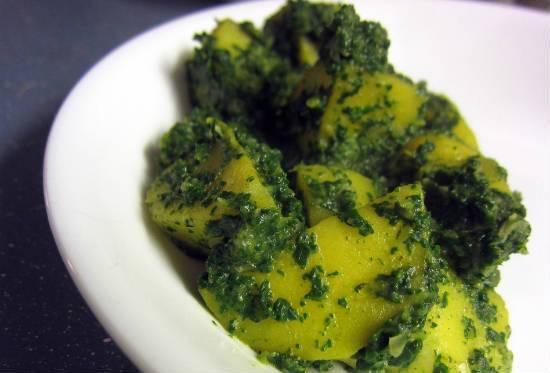 Ingredients:
Spinach – 1 1/2 cups, washed, chopped
Onions – 1, large, finely chopped
Potatoes – 1, large, boiled, peeled, cut into medium size pieces
Tomatoes – 1, small, grated
Green Chillies – 2, small, chopped
Ginger – 1/2 inch piece
Lemon Juice – 1/2 tsp
Plain Flour – 1/4 tsp
Red Chilli Powder – 1/2 tsp
Cinnamon Powder – 1/4 tsp
Clove Powder – 1/4 tsp
Turmeric Powder – 1/8 tsp
Cumin Seeds – 1/4 tsp
Garam Masala Powder – 1/4 tsp
Asafoetida Powder – a pinch
Butter – 1/4 tblsp
Ghee – 2 tblsp
Salt as per taste
Method:
1. Heat a pan over moderate flame.
2. Add the spinach and sprinkle a little salt.
3. Pour a little water and cover the pan with a lid.
4. Bring to a boil and remove.
5. Drain the spinach under cold running water and keep aside till all water has drained.
6. Transfer to a mixer jar along with green chillies.
7. Blend for a minute or two till slightly coarse.
8. Remove and keep aside.
9. Heat ghee in a pan.
10. Fry the potatoes till light brown.
11. Remove and keep aside.
12. To the same pan, saute the cumin seeds, ginger and onions.
13. Fry till onions turn tender.
14. Add the tomatoes and stir-fry for a minute or two.
15. Add red chilli powder, clove powder, cinnamon powder, cumin seeds, garam masala powder and fry for 2 minutes.
16. Now add the spinach and potatoes.
17. Bring to a boil.
18. Sprinkle flour and stir to mix well.
19. Add lemon juice and cook for 2 more minutes.
20. Fry the asafoetida powder in butter and pour over the curry.
21. Mix well and remove when done.
22. Serve hot.