Simple to make, these creamy garlic prawns are best served with rice and ideally suited for a weekend lunch or weeknight dinner.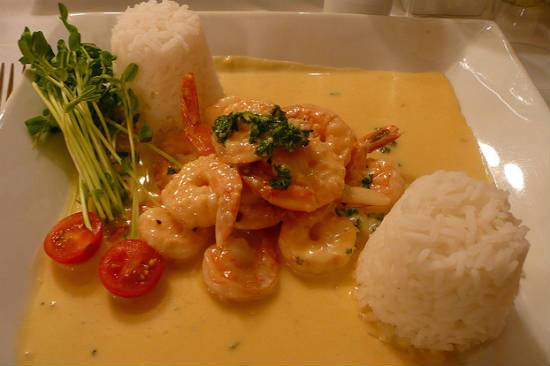 Ingredients:
Prawns – 500 gms, peeled, tails intact
Butter – 50 gms
Garlic Paste – 2 tsp
Maida (Plain Flour) – 2 tsp
Cream – 1/2 cup, thick
Chicken Stock – 1/2 cup
Mustard Paste – 1/4 tsp
Coriander Leaves (or Parsley) – 2 tsp, chopped
Pepper Powder as per taste
Salt as per taste
Method:
1. Heat butter in a pan over medium flame.
2. Add the garlic paste and stir well.
3. Add the flour and stir again.
4. Remove the pan from flame after 20 seconds.
5. Pour the stock and cream to the pan.
6. Stir until well combined.
7. Place the pan over medium flame, stirring until the sauce thickens.
8. Add the mustard, salt and pepper powder.
9. Now add the prawns to the pan and stir well.
10. Simmer until it starts to boil and reduce flame.
11. Cook for 5 minutes or until the prawns are done.
12. Garnish with coriander leaves.
13. Serve with cooked rice.