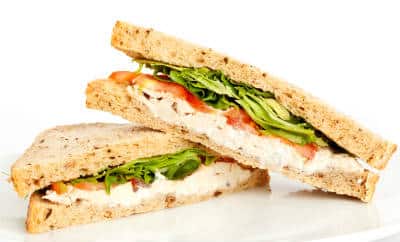 Ingredients:
Chicken Breasts – 1 cup, cooked, shredded
Cabbage – 1/8 cup, finely chopped
Carrot – 1/8 cup, finely chopped
BBQ Sauce – 1/4 cup
Cheddar Cheese – 1 cup
Bread Slices – 8, thick
Oil as required
Method:
1. Combine the chicken breasts, cabbage and carrot in a bowl.
2. Add the bbq sauce and mix well.
3. Divide the cheese among 4 of the bread slices.
4. Spread the chicken mixture on top.
5. Sprinkle the remaining cheese on top and cover with the remaining slices.
6. Heat a non-stick tawa over medium flame.
7. Add a little oil and place the prepared sandwiches.
8. Cover and cook till the bread is toasted.
9. Alternatively use a sandwich toaster.
10. Serve at once.
Tip: If desired, add tomato slices, torn lettuce and onions.
Note: image is for illustration purposes only and not that of the actual recipe.
image credit