Aloo Gobi is a popular dry (sometimes semi dry) gravy made with potatoes and cauliflower cooked in spices. This is a great, delicious side dish for rotis, naan or rice items.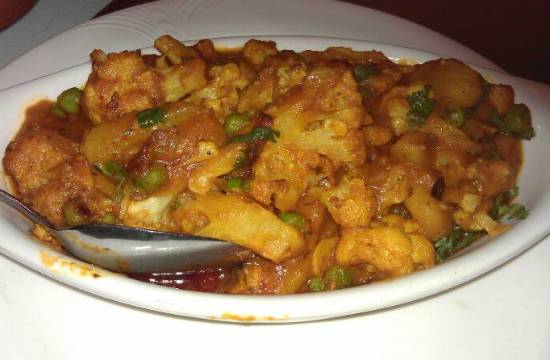 Ingredients:
Potatoes – 2 to 3, peeled, chopped
Cauliflower – 1 large, chopped
Onions – 2, chopped
Green Peas – 1/4 cup (optional)
Ginger Garlic Paste – 1 tblsp
Green Chillies – 6 to 8, finely chopped
Garam Masala Powder – 1 tblsp
Coriander Powder – 2 tsp
Red Chilli Powder – 2 tsp
Coriander Leaves – small handful, chopped
Oil – 1/3 cup
Asafoetida – 1 tsp
Cumin Seeds – 1 tblsp
Salt as per taste
Turmeric Powder – 2 tsp
Method:
1. Heat oil ina pan over medium flame.
2. Add the cumin seeds, asafoetida and turmeric powder.
3. Fry for 30 seconds.
4. Add the onions and a pinch of salt.
5. Saute for 2 to 3 minutes or until the onions start to turn light brown.
6. Add ginger garlic paste, green chillies and stir well.
7. Add the potatoes and cook for 2 minutes or until tender.
8. Add the cauliflower, garam masala powder, red chilli powder, coriander powder and salt.
9. Cook for 5 to 6 minutes, stirring from time to time to prevent sticking to the bottom.
10. Pour enough water (gradually) and stir well. Do not add too much water, about 1/2 to 3/4 cup should be fine.
11. Reduce flame to low and cover the pan with a lid.
12. Cook for 12 to 15 minutes, stirring from time to time.
13. Garnish with the coriander leaves and remove from flame.
14. Serve with rice, roti or naan.