A delicious cooked chicken in a honey-garlic sauce. Best served with hot, steamed rice.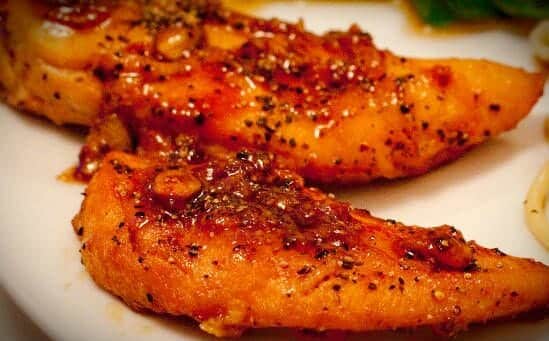 Ingredients:
Chicken Breasts – 2, boneless, skinless
Garlic – 1 tblsp finely minced
Garlic Powder – a pinch
Butter – 4 to 5 tsp
Chicken Stock – 1/4 cup
Honey – 3 tsp
Soy Sauce – 1/2 tsp
Salt as per taste
Black Pepper Powder as per taste
Method:
1. Place the chicken breasts in a bowl.
2. Sprinkle salt, garlic powder and pepper.
3. Toss well to combine.
4. Heat butter in a pressure pan.
5. Add the chicken and cook until browned and slightly crisp.
6. Pour the chicken stock and stir.
7. Combine the garlic, honey and soy sauce.
8. Add this to the pan and stir until the chicken is evenly coated.
9. Cover with a lid and pressure cook for 10 minutes.
10. Switch off the flame and allow the pressure to reduce.
11. Serve with rice.