Milagu (Pepper) Karasev is a popular South Indian savoury snack often made during festivals and weddings.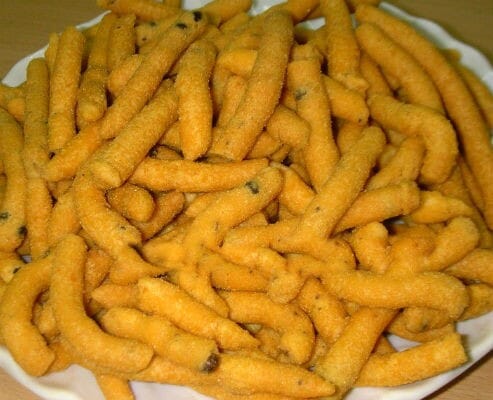 Ingredients:
Gram Flour – 1 cup
Corn Flour – 1 cup
Rice Flour – 2 tblsp
Cumin Seeds – 1 tsp, crushed
Peppercorns – 2 tsp, crushed
Asafoetida Powder – 1/4 tsp
Cooking Soda – 1/4 tsp
Oil as required for frying
Ghee – 2 tsp
Salt as per taste
Method:
1. Combine all the flours and sieve well.
2. Add salt and mix well.
3. Mix ghee and cooking dosa in a bowl.
4. Add the flours, cumin seeds, peppercorns, salt, asafoetida powder and enough water.
5. Mix well. The dough should not be too thick or too watery.
6. Heat oil in a deep frying pan.
7. Rub the dough on a karasev plate over the hot oil.
8. Fry until light golden brown.
9. Remove and drain excess oil.
10. Store in an airtight container.
11. Serve as a snack.
12. Stays good for 10 days.