Avial is a popular South Indian dish often made during festivals or special occasions.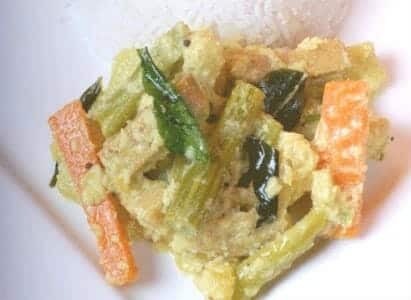 Ingredients:
Double Beans – 1 cup, dried
Drumstick – 1, sliced
Carrot – 1, sliced lengthwise
Turmeric Powder – a pinch
Curd – 1/2 cup
Coconut Oil – 3 tblsp
Salt as per taste
Optional Ingredients:
White Pumpkin: 1/2 cup, chopped
Potato – 1/4 cup, chopped
Grind together:
Green Chillies – 3
Coconut – 1/2 cup, grated
Method:
1. Grind the green chillies and coconut to a fine paste.
2. Soak the beans overnight and drain well.
3. Heat a heavy-bottomed pan over medium flame.
4. Add the carrots, drumsticks and double beans.
5. Add salt, turmeric powder and 1 to 2 cups of water.
6. Cook until aldente and add the ground paste.
7. Bring to a boil.
8. Add curd and mix well.
9. Simmer for a minute more.
10. Add coconut oil and stir.
11. Remove from flame.
12. Serve with rice or as a side dish with chapati.