Kara Sev is a spicy savoury snack often made during festivals like Diwali. Sattur is a small town in Tamil Nadu and is famous for Kara Sev, which is locally called "Sattur Kara Sevu".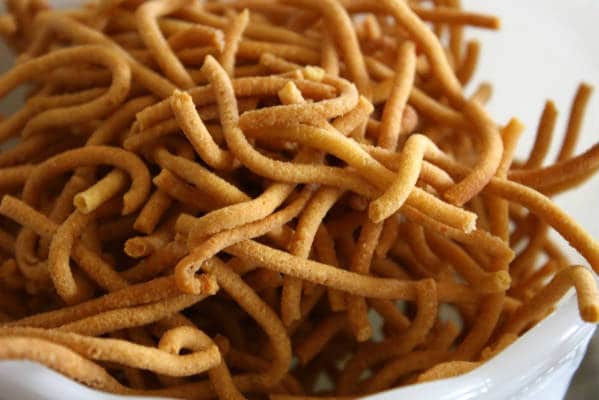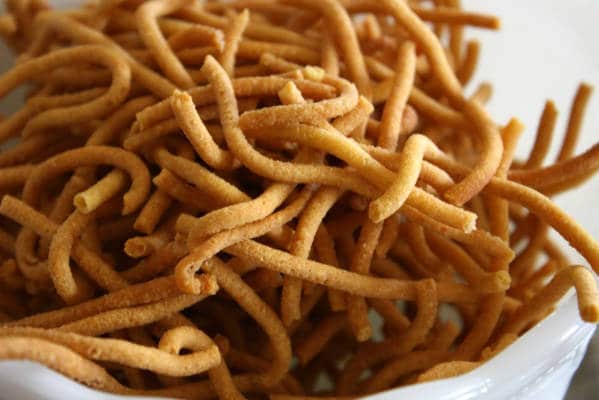 Ingredients:
Rice Flour – 2 cups
Gram Flour – 2 cups
Sesame Seeds – 2 tsp
Cumin Seeds – 2 tsp
Asafoetida Powder – 1/4 tsp
Red Chilli Powder – 6 tsp
Oil as required
Salt as per taste
Method:
1. Combine the rice flour, gram flour, sesame seeds, cumin seeds, salt, asafoetida powder and red chilli powder in a bowl.
2. Heat 7 to 8 tsp of oil and add to the bowl.
3. Mix well.
4. Pour enough water and mix again to a soft but stiff dough.
5. Heat oil in a deep frying pan.
6. Add some of the dough to a murukku press.
7. Gently squeeze over the hot oil and fry until light golden brown.
8. Remove and drain excess oil.
9. Store in an airtight container.
10. Serve as a snack.