Samosa Chaat is a popular street food dish across India. Cooked samosas are crumbled, mixed with spices, assortment of chutneys, garnished with coriander leaves and sev.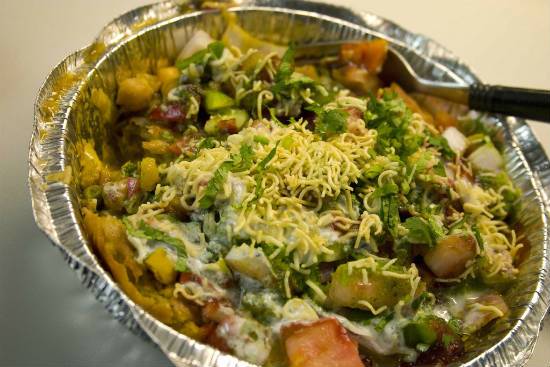 Ingredients:
Maida – 1 cup
Oil – 2 tblsp
Salt – a pinch
Baking Powder – a pinch
Cold Water as required
Oil as required for frying
For the filling:
Onions – 2, finely chopped
Potatoes – 2, boiled, mashed
Carrot – 2 tblsp, finely chopped
Green Peas – 100 gms
Beans – 10, finely chopped, boiled
Salt as per taste
Garam Masala Powder as per taste
Green Chillies – 1, chopped
Cumin Powder – 1/2 tsp
Oil as required
To garnish:
Thick Curd – 1 cup
Chaat Masala Powder – as required
Sev as required
Sweet Tamarind Chutney as required
Green Chutney as required
Coriander Leaves – few, chopped
Onion – 1/4 cup, finely chopped (or as required)
Cucumber – 1/4 cup, finely chopped
Green Chillies – 2 to 3, finely chopped
Method:
1. To make the samosas, mix the maida, 2 tblsp oil, salt, baking powder in a bowl.
2. Add enough cold water and mix well.
3. Cover with a damp cloth for 30 minutes.
4. Meanwhile heat little oil in a pan.
5. Saute the onions and green chillies for a minute.
6. Add the potatoes, carrots, green peas, beans, garam masala powder and cumin powder.
7. Mix well and add salt.
8. Keep aside in a bowl.
9. Make small balls of the dough and roll them into small puris.
10. Add 1 or 2 tblsp of the filling and fold well into a samosa.
11. Heat oil in a deep frying pan over medium flame.
12. Cook the prepared samosas until cooked and golden.
13. Remove and drain excess oil.
14. Transfer to a serving plate and crush them lightly.
15. Garnish with curd, sweet tamarind chutney, green chutney, chaat masala powder, onions, green chillies, cucumber, sev and coriander leaves on top.
16. Serve at once.
Tip: If desired, you can omit the curd and serve without it.