Vazhaithandu (Banana Stem) is a rich source of nutrients and fiber. Very popular in South Indian, various dishes are prepared and this poriyal is a delicious side dish for rice, sambar or rasam.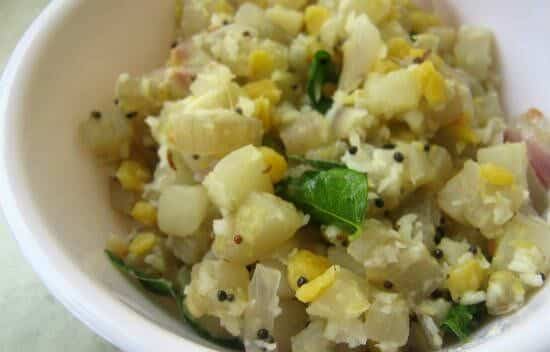 Ingredients:
Vazhaithandu (Banana Stem) – 2 cups, finely chopped
Turmeric Powder – a pinch
Oil – 2 tsp
Asafoetida Powder – 1/4 tsp
Mustard Seeds – 1/2 tsp
Urad Dal – 1 tsp
Bengal Gram Dal – 1 tsp
Ginger – 1 tsp, finely chopped
Green Chillies – 1 tsp, finely chopped
Dry Red Chillies – 2
Coconut – 4 tsp, grated
Curry Leaves – few
Salt as per taste
Method:
1. Add turmeric powder and salt to the vazhaithandu pieces.
2. Add enough water and cook until tender.
3. Heat oil in a pan over medium flame.
4. Fry the mustard seeds, urad dal, bengal gram dal, dry red chillies and asafoetida powder for 30 to 45 seconds.
5. Add ginger, green chillies, curry leaves and stir-fry for another 30 seconds.
6. Add the cooked vazhaithandu pieces and mix well.
7. Cook for a few minutes or until all moisture has evaporated and the mixture is dry.
8. Garnish with grated coconut.
9. Remove from flame and serve as a side dish.