A popular North Indian chaat dish made during festival occasions. Similar to the South Indian Curd Vadai, this Dahi Bhalla (as it is also known) is popular during Holi fesival.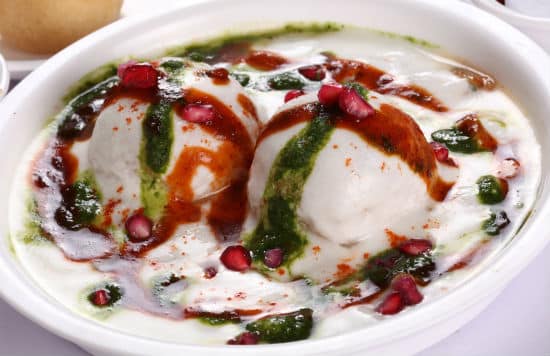 Ingredients:
Split Urad Dal – 1/2 cup, soaked for 1 hour
Asafoetida Powder – a small pinch
Ginger – 1 to 2 tsp, peeled, finely chopped
Green Chilli – 1, chopped
Cashewnuts – 1/2 tsp, chopped
Raisins – 1/2 tsp
Coconut – 1/2 tsp, grated
Plain Yogurt – 1 cup, thick
Milk – 1/4 cup
Sugar – a small pinch
Cumin Powder – 1/2 tsp
Black Salt – 1/2 tsp
Sweet Tamarind Chutney – 1 tblsp (available readymade or use this recipe)
Green Chutney – 1 tblsp (optional. recipe)
Pomegranate Seeds – few
Coriander Leaves – few, chopped
Oil as required
Salt as per taste
Method:
1. Drain the dal and transfer to a grinder.
2. Add asafoetida powder, ginger, green chillies and salt.
3. Grind to a smooth batter and keep aside. Add little water if desired during grinding.
4. Mix cashewnuts, raisins, coconut and a pinch salt in a bowl.
5. Add this to the batter and mix well.
6. Heat oil in a deep frying pan over medium flame.
7. Add spoonfuls of the batter into the hot oil.
8. Fry until the vadas become crisp and golden.
9. Remove, drain excess oil and drop them in a bowl of water for 10 to 20 minutes.
10. Meanwhile, whisk the yogurt, milk and sugar in a bowl.
11. Squeeze excess water from the vadas and transfer them to a bowl.
12. Pour the yogurt mixture over the vadas.
13. Sprinkle cumin powder, black salt, sweet tamarind chutney and green chutney on top.
14. Garnish with pomegranate seeds and coriander leaves.
15. Serve at once or serve chilled.
image via swati hotel / flickr