A classic and easy to  make sandwich with an assortment of vegetables. Feel free to add vegetables of choice. Ideal for lunch, evening snack or weekend brunch.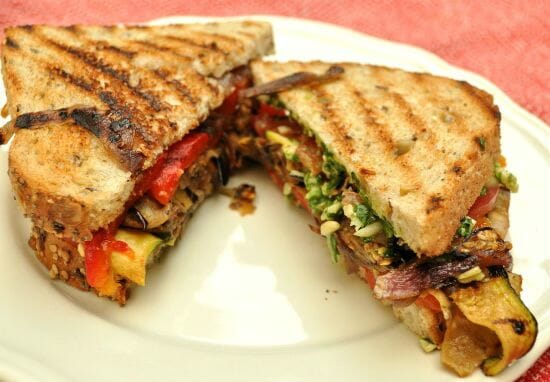 Ingredients:
Zucchini – 1, medium, sliced (You can substitute this with peeled and seedless Cucumber slices)
Onion – 1, sliced
Sun-dried Tomatoes – few (optional)
Bread Slices – as required
Capsicum – 1, medium
Lime Juice – 3 tsp
Lettuce – handful, chopped
Oregano – 1 1/2 tsp
Olive Oil – 2 tsp + extra
Cumin Powder – 1/4 tsp
Black Pepper Powder as required
Red Chilli Powder – a pinch
Salt as per taste
Cheese Slices – as required, 1 per sandwich.
Method:
1. Cut the capsicums into small pieces.
2. Mix the lime juice, olive oil, oregano, cumin powder, red chilli powder and black pepper powder in a bowl.
3. Heat little oil in a pan over medium flame.
4. Fry the onions and zucchini (if you are using cucumber, just fry the onions) for a minute.
5. Spread butter on half of the bread slices and the lime juice mixture on the other halves.
6. Arrange the lettuce, onions, zucchini, capsicum on the buttered slices.
7. Sprinkle a bit of pepper powder, salt and place a cheese slice on each sandwich.
8. Cover with the other half and place them on a grill pan over medium flame.
9. Grill until cheese melts or for 2 minutes on each side.
10. Remove and cut into 2 triangles.
11. Serve at once.