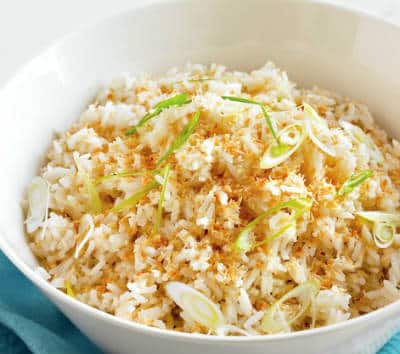 Ingredients:
Basmati Rice – 300 gms
Coconut Milk – 50 ml
Coconut – 50 gms, desiccated
Kaffir Lime Leaf – 1, torn
Salt – 1/2 tsp
Method:
1. Toast the coconut in a pan until golden.
2. Wash and rinse the rice in cold water.
3. Drain well and add to a large pan.
4. Add the lime leaves and coconut milk.
5. Add salt and stir well.
6. Pour enough boiling water to cover the rice and cover the pan with a lid.
7. Cook for 5 minutes and reduce flame to low.
8. Simmer for another minutes and switch off the flame.
9. Remove the lid after 10 to 15 minutes and fluff up the rice using a fork.
10. Sprinkle the toasted coconut and serve at once.