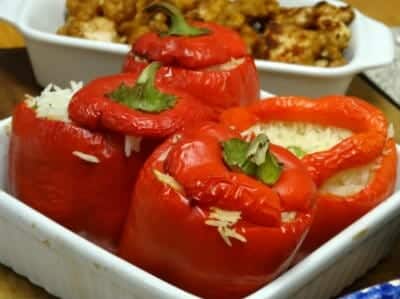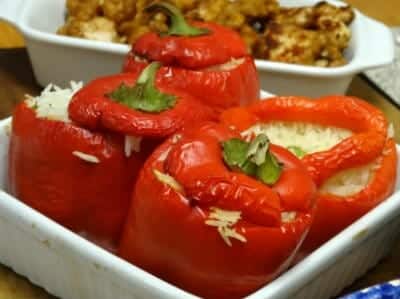 Ingredients:
Capsicums – 10, small ones
Rice – 1/4 cup
White Wine Vinegar – 1/2 tblsp
Dried Oregano – 1/4 tsp, crushed
Olive Oil – 1 to 2 tblsp
Dijon Mustard – 1/4 tsp
Parmesan Cheese – 1/4 cup, grated
Salt as per taste
Black Pepper Powder as per taste
Method:
1. Roast the capsicums in a preheated oven at 225C for 10 minutes or until wrinkled and soft.
2. Remove and transfer them to a baking tray.
3. Cut them in halves or cut the tops to make it like a cup and scoop out the seeds.
4. Cook rice in salted water until tender and drain well.
5. Whisk together the olive oil, vinegar, oregano and mustard in a bowl.
6. Add salt and black pepper powder.
7. Add this to the cooked rice.
8. Add cheese and mix well.
9. Stuff the capsicums with this mixture and transfer them to a serving plate.
10. Serve at once.