Deepavali Legiyam (or Deepavali Marundhu) is a very popular and traditional part of Diwali festival consumed to prevent indigestion. Made with various ingredients this healthy paste is normally taken on an empty stomach right after the oil bath. This can also be taken throughout the year to aid in digestion.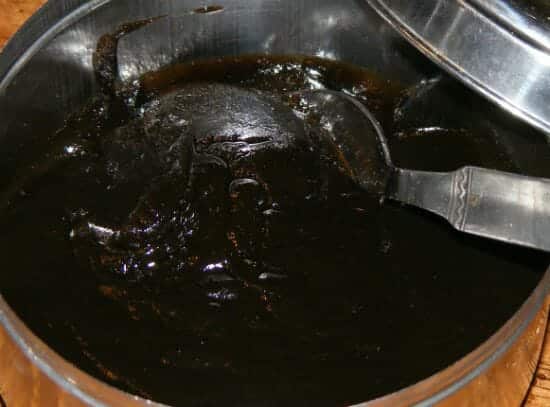 Ingredients:
Sukku (Dry Ginger) – 50 gms
Omam (Ajwain) – 100 gms
Kandathippili (Dried Long Pepper Root) – 1 1/2 tblsp
Arisi Thippli (Dried Long Pepper Root) – 1 1/2 tblsp
Sitharathai (Thai Ginger) – 2 sticks
Ginger – 2 inch piece, grated
Black Peppercorns – 1 tsp
Coriander Seeds – 2 tsp
Cumin Seeds – 1 tsp
Jaggery – 1 1/2 cups, powdered
Ghee – 4 to 5 tblsp
Honey – 3 to 4 tblsp
Gingelly Oil – 2 tblsp
Method:
1. Dry roast all the ingredients for a minute.
2. Combine them in a mixer and grind to a fine powder.
3. Heat 1/2 cup of water in a pan over medium flame.
4. Add the jaggery and stir well until fully dissolved.
5. Filter this to remove any impurities.
6. Place the jaggery syrup on the flame.
7. Add the ground powder and mix well.
8. Add honey, gingelly oil and ghee.
9. Simmer for 5 to 10 minutes or until it has reached a halwa consistency and it starts to leave the sides of the pan.
10. Remove from flame.
11. Allow it to cool before storing in a clean, sterilized container.