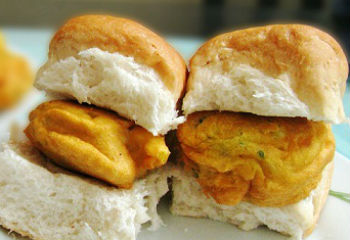 Ingredients:
Pavs – 4 (or any unsweetened bun)
Garlic Chutney or Green Chutney as required
Potatoes – 1 cup, boiled, mashed
Green Chillies – 1 tsp, finely chopped
Garlic – 2 to 3 cloves, grated
Ginger – 1/2 inch piece, peeled, finely chopped
Mustard Seeds – 1/2 tsp
Asafoetida Powder – a pinch
Curry Leaves – few
Turmeric Powder – 1/4 tsp + a pinch
Oil – 1/2 tblsp
Bengal Gram Flour (Besan) – 1/3 cup
Baking Soda – a little pinch
Oil – 1/2 tsp
Salt as per taste
Oil for deep frying
Method:
1. Grind together the green chillies, ginger and garlic. Keep aside.
2. Heat oil in a pan.
3. Fry the mustard seeds till it starts to splutter.
4. Add the asafoetida powder and curry leaves.
5. Add the ground chillies, ginger and garlic mixture.
6. Stir-fry for a minute.
7. Add the mashed potatoes, 1/4 tsp turmeric powder and salt.
8. Stir to mix well.
9. Remove and keep aside to cool.
10. Make small balls of the mixture and keep aside.
11. Combine the besan, baking soda, a pinch of turmeric powwder, 1/2 tsp oil and salt.
12. Add enough water to make a batter.
13. Flatten the prepared balls slightly and dip them in the batter. Ensure the vadas are coated well with the batter.
14. Heat oil for deep frying.
15. Deep fry the vadas, one or two at a time, till golden brown.
16. Remove and drain excess oil.
17. To make the vada pavs, slice each pav into half.
18. Spread some chutney and place a vada inside.
19. Serve at once.
Subscribe to our Newsletter
Receive the latest recipes & kitchen tips !