Are you tired of keeping your food grains free from insects? Food storage and preservation is the biggest challenge a housewife faces. Cereals and cereal products are one of the most important food items consumed worldwide. The biggest threat to food grains and dry foods is infestations which may be in the form of live insects or insect eggs. Bacteria are surface contaminants of food grains and the main spoilage organisms in grains are moulds.
It is very important to store and preserve food grains so that they are free from micro-organisms that can impact health. Sun drying is one of the oldest methods used from time immemorial for preserving food grains. Drying removes moisture from the food stuff and prevents spoilage of food. This method has been also used for preserving certain vegetables, fruits, meats, dried fish, shrimps, tamarind, papads etc.
Besides sun drying, here are other simple ways of storing and preserving food grains so that they remain fresh and do not lose healthy nutrients present in them.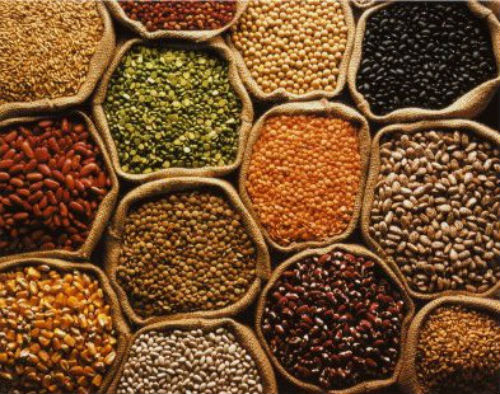 Wheat:
Believe it or not, a simple match stick can become a savior of your wheat stock. Simply buy a pack of match sticks. Wind cotton thread around the match sticks. Cluster these together and put them in the wheat container. One such pack of 50 match sticks is enough for 20 kg wheat. Change this every three months to keep moths away from wheat.
Dried neem leaves added to wheat stock also keeps the worms away from wheat grains.
Rice:
We experience rice becoming infected with worms very fast. Here are two tips to keep worms at bay.
10 small pieces of camphor tied in a piece of cloth will be good enough to keep worms away from rice.
Boric powder mixed with rice will also keep it fresh and free from insects and worms. For long-term storage, put rice in containers that are clean and completely dry. Any trace of moisture or contamination can cause bacterial growth and spoilage of rice. Spread boric powder at the base. Mix boric powder with rice and store in the container. Sprinkle a little boric powder on the top layer of rice. Seal the container and make sure it is airtight. You may use candle wax to seal.
Tip: Store the containers in cool dry place away from sunlight.
Jowar (Sorghum):
Dried neem leaves can by handy in preserving jowar. Store the grain in air tight containers. Spread dried neem leaves at the base of the clean and dry container. Mix dried neem leaves in the grain and put jowar on the dried leaves base.
Before closing the lid of the container spread a few dried leaves at the top.
Red chillies can also be used for storing this grain. You will require 200 grams of dried red chillies for storing 20 kg Jowar.
Boric powder mixed with the grains can also be used to store the grains.
Pulses:
The method of drying pulses in the sun has been used for ages. Sundried pulses stay fresh and worm free. After drying in the sun cool the pulses before storing them in airtight containers.
If drying in the sun is not possible, you can put them in an open vessel or a heavy-bottom karahi and roast them on a slow fire. Stir continuously to avoid burning. The purpose is to remove moisture from the pulses. Cool the pulses before storing. Roasted daal will taste better when cooked.
Boric powder mixed with pulses can help them stay fresh and keep worms at bay. But remember to clean them well before cooking to remove any traces of boric powder.
Microwave the pulses for three four minutes, cool and store them.
Remember: Pulses that you are likely to use for sprouting should not be roasted in the microwave.
Beans:
Simply add a few dried chilli peppers to the dried beans and store in an airtight container. Red chillies will not flavour the dried beans but will definitely keep the pests away.
Add boric powder to the dried beans and mix well. This will keep the beans insect-free. Wash well before use.
Bajra:
Purchase bajra is small quantities as chances of getting spoilt are very high. Store in an airtight, clean and dry container and keep away from sunlight.
Add a few cloves to the stored grains to keep worms away.
Store with dried neem leaves to protect from insects.
Peanuts:
Mint leaves can be used for preserving peanuts.
If you are staying in a highly humid area, store them in the freezer. They will remain fresh for months.
Chick peas (Chhole):
It is often seen that chick peas get infested with worms very fast especially in the rainy season. The best way to store them is to keep them in an airtight container in the freezer. Mix boric powder before putting in the containers.
Before using wash well to remove boric powder.
Semolina (Suji):
Roasting semolina on a slow fire in a non-stick pan is the best way to protect semolina from insects. Cool it and store in an airtight container.
If you want to keep it fresh for months, put the container in the freezer.
Dalia (Broken wheat):
Simply roast it on slow fire in a heavy-bottomed vessel or in the microwave to prevent insect infestation. Cool and store in an airtight container.