A number of delectable cuisines of the various regions together constitute the great Indian cuisine. One such flavourful, high-energy cuisine of India is the Bhojpuri cuisine – the style of cooking of the northern agricultural lands of Bihar, Jharkhand, Orissa and Uttar Pradesh.  The inhabitants of the Bhojpuri region are predominantly agriculturists who sweat all day long under the sun toiling in the farmlands. Also known as peasant's food, a Bhojpuri platter consists of foods that are rich in calories and carbohydrates that energises them and keep them active throughout the day.
The tummy filling Bhojpuri cuisine has subtle flavour of spices and the dishes are usually mild and are greatly influenced by the Mughalai and Awadhi cuisines. The distinctive characteristic of this cuisine is the absence of the traditional Indian curry in any form. Their vegetable preparations are mellow gravies called stews that go as an accompaniment with their main dishes.
The Bhojpuri dishes are hassle free and are simple to cook. With rice and wheat being the staple food of Bhojpuris, their main courses are made of them. One of the prominent ingredients that a Bhojpuri dish cannot go without is roasted Bengal gram flour called sattu. Since a Bhojpuri menu aims at keeping the people awake, energetic and healthy; the inclusion of seasonal vegetables in their menu is mandatory. Chicken and lamb based dishes are popular in their region.
One can't miss soft rotis or parathas, a sizzling portion of rice, succulent stews and a warm bowl of dal in a Bhojpuri platter. Potato based recipes like aloo paratha (potato stuffed flat bread), bhujia (pan fried potatoes) and aloo matar (tangy gravy made of potato and green peas) are very common Loaded with carbohydrates, they are instant energy boosters and make for a filling meal.
The vegetarian populace get their dose of protein from rajma and dals and snack on mashed potatoes, raisins, almonds, peanuts, apricots and figs soaked in milk to keep their hunger pangs at bay.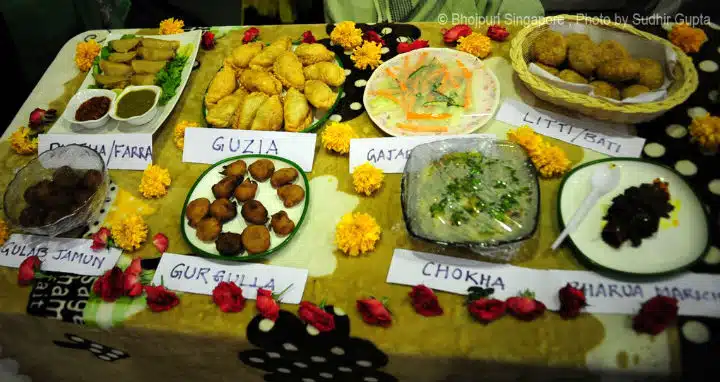 Other popular signature delicacies of the Bhojpuri cuisine are –
Tilkut – a nutty sweet that resembles a crunchy snack bar made of sesame seeds and sugar. This crunchy energy bar is a popular Bhojpuri breakfast and often comes to rescue when hunger pangs strike.
Bhabhara – crunchy fritters made of gram flour, green peas and spices. This healthy snack tastes great while sipping on to a piping hot cup of tea or coffee. Sometimes carrots and beets are garnished to the traditional recipe giving it a new flavour.
Litti Chokha – it is a rustic fried wheat ball, stuffed with roasted gram flour which is usually accompanied by a tangy dip made of charred eggplants, tomatoes or mashed potatoes mixed with spices and herbs called chokha. This is a traditional lunch or dinner recipe in the Bhojpuri menu.
Sattu ka paratha – This shallow fried flat bread is made of sattu-roasted gram flour. Sattu being a rich source of fibre and protein makes this paratha a great option during any time of the day. It is served with pickles and salad.
Dal Pithi – This comforting dish is made of wheat dumplings drowned in tangy lentil soup. This great combination of fibre and proteins makes for a filling lunch or dinner. It is relished with fresh salad or chokha.
Bari – Kadhi – This mild gravy is made with curd and gram flour. Small fried dumplings made of gram flour are smothered in the gravy made of curd and gram flour tempered with spices. This is usually had in combination with rice, rotis or parathas.
Korma – Luscious gravy made with meat or an assortment of vegetables cooked in a creamy sauce made of stock and spices. This rich, aromatic gravy goes well with rotis and rice.
Balushahi – This traditional Bhojpuri sweet tickles your taste buds with its sweet and sour taste. Made of raw mangoes and sugar, this dish tastes amazingly well when had alone or with rotis and parathas.
The people of the Bhojpuri lead a healthy lifestyle by striking a balance between physical activity and a balanced diet. They eat heartily, work tirelessly and live peacefully; which is something we can learn from them.