"You are what you eat" is the way Tamil Brahmins view cooking.
Tamil Brahmin cuisine is based on the concept that food shapes the personality, mood and mind. A healthy vegetarian diet fosters serene qualities. In Brahmin household food is cooked with a great deal of attention to cleanliness; to the balancing of nutrition, flavor, texture and variety.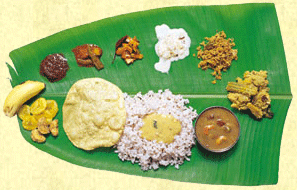 The spices they use play an important role in our everyday life. Fenugreek as a digestive aid, cumin has multiple usages, dried legumes and beans are great protein sources, pepper is the best home remedy for colds and coughs, turmeric is the wonder healer of wounds.
Every ingredient used in the Tambram(Tamil-Brahmin) cuisine has a purpose that goes beyond taste and texture.
Come; let us peek into the household of a Tamil Brahmin shrieking with Suprabhatham early in the morning.
Typically, idli, dosa, arisi upma are the common breakfast dishes. Brahmins do not favor oily dishes early in the morning for breakfast because, the brain would be sharper with less consumption of oil and don't we all need it especially in the morning hours at our work place. Tomato chutney is preferred rather than coconut chutney in many households. It is easier and faster to prepare. And the cholesterol content is lesser when compared to coconut chutney. And tomatoes contain lycopene, which is one of the most powerful antioxidants. A daily or even weekly dose of a spoonful of tomato chutney is good in preventing cancer.
Arisi Upma is a ready breakfast in just over 7 minutes. It has all the goodness of rice and wont let you get hungry soon.
Some Brahmins skip breakfast. They have a very heavy brunch at about 10 AM. In this case, you may feel the drowsiness which is felt after the mid day meal. You save the cat nap time; you stay fresh and agile, all through the day.
Lunch is not just a romance with food, lunch is an offering to the rejuvenation of the body, and the meal is cooked with the combination of spices in such a way that the soul stays serene.
This article cannot do complete justice in describing a typical Brahmin lunch, but well, let me highlight a few key dishes and their recipes.
Plantain pith curry, the stem of the banana plant is chopped and with the assorted spices given in this recipe, it makes a delicious side dish. It is high in fiber content and aids in digestion. Babies are fed with the juice of plantain pith to be cured of colic.
Potato roast curry, the favorite of all south Indian children, cooked this way is heavenly. Deep fried potato roast is also a very delicious dish. I can keep preparing potato fry everyday and no one gets bored in my family.
Yet another favorite amongst all is lady's finger fry. It's an absolute yummy dish. Kids are often told that lady's finger makes them brainy, smart and intelligent. I am not sure how much truth is there in this. But if this can make them eat lady's finger, what the heck, say all you want, huh?!
Onion vathal kuzhambu with potato roast is a divine romance for the tongue. You would know what I mean if you have tried and tasted this combination. It absolutely cannot be described in words. Vathal Kuzhambu can be prepared otherwise too without onions, but with various different vathals (dried vegetables). In this recipe, vathal kuzhambu is prepared with manathakali and sundakai vathal.
Spring Onion sambar, small onion sambar, karuveppilai(curry leaves) kuzhambu are most preferred gravy side dishes.
Greens are a great favorite in this community. Almost everyday there would be some dish prepared with fresh green leaves. Some common dishes prepared with greens are Vendhaya keerai masala morkuzhambu, keerai kuzhambu recipe, keerai koothu recipe.
Yet another awesome combination is mor kuzhambu and vazhakai poriyal(raw banana curry). Mor Kuzhambu is prepared spiced yoghurt. This tastes great with raw banana curry.
Panakam and Kosumalli are offered to Lord Rama. Panakam is jaggery water in its simplicity but with various flavors and spices to cater to the individual tongue. Kosumalli is the plain old raitha with the goodness and proteins of moong dal. There are various variations to Kosumalli like Carrot Kosumalli, Cucumber Kosumalli, Radish Kosumalli and so on. One thing in this community's dishes is amazing that almost any dish can be substituted with any vegetable, fruit or grain and still made equally tasty with the assorted spice and flavor.
Brahmins have to eat curd rice with mango or lemon pickle. They believe that curd rice is absolutely essential to make a meal complete because of its cooling properties. The stomach needs to be cooled after such a very heavy and spicy meal.
A ripe banana to top it all. Do not tell me there is no space for the fruit. You must have it to complete the complete meal.
These dishes prepared the tambram way are not only delicious but healthy, nutritious and balanced in a way which no expert dietician can refute. Teach this cuisine to others.

Spread the message of healthy eating and peaceful living.