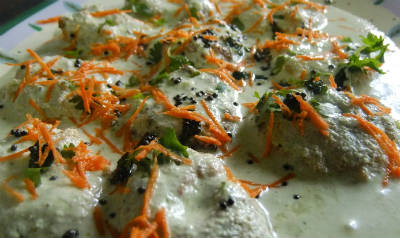 Ingredients:
Urad Dal – 250 gms
Plain Curd – 500 ml
Green Chillies – 3
Coriander Leaves – 2 tsp, chopped
Carrot – 2 tsp, grated
Kara Boondi – 100 gms
Oil – 500 ml
Salt as per taste
Method:
1. Soak the dal for 1 hour.
2. Wash and drain the water.
3. Add salt, green chillies and grind to a thick batter.
4. Heat oil in a frying pan.
5. Drop small flattened balls of the batter into the hot oil and fry till light golden brown.
6. Remove and drop (or dip) the vadais in warm water and immediately drop into the curd.
7. Allow it to soak for a few minutes.
8. Garnish with kara boondi, carrots and coriander leaves.
9. Serve.