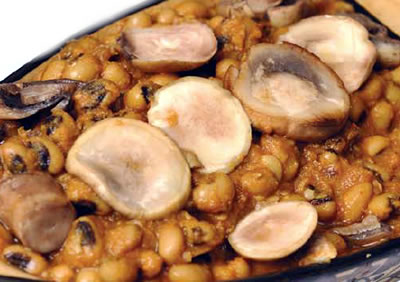 Ingredients:
Black Eyed Beans – 1 cup, soaked overnight
Onion Paste – 1/4 cup
Ginger Garlic Paste – 1/2 tblsp
Tomatoes – 1/2 cup
Mushrooms – 100 gms, chopped or cut into rings
Turmeric Powder – 1/2 tsp
Coriander Powder – 1 tblsp
Cumin Powder – 1 tsp
Red Chilli Powder – 1/2 tsp
Oil – 1 to 2 tblsp
Salt as per taste

Method:
1. Drain the black eyed beans.
2. Add 2 cups of water and little salt. Pressure cook for 2 whistles or until tender.
3. Heat oil in a pan.
4. Saute the mushrooms for a minute or until lightly browned. Remove and keep aside.
5. Add the onion paste, tomatoes, ginger garlic paste, turmeric powder, coriander powder, cumin powder and red chilli powder to the same pan.
6. Stir well and cook on low flame for 2 to 3 minutes.
7. Add the cooked black eyed beans and mix well.
8. Simmer for a few minutes till the gravy starts to thicken.
9. Remove and transfer to a plate.
10. Garnish with the mushrooms.
11. Serve hot with rice or roti.