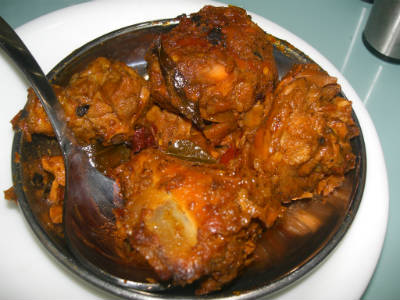 Ingredients:
Chicken – 500 gms, cleaned, washed, drained, chopped
Dry Red Chillies – 5
Onions – 100 gms, chopped
Tomatoes – 150 gms, chopped
Mustard Seeds – 1/2 tsp
Peppercorns – 1 tsp
Cumin Seeds – 1 tsp
Curd – 2 tsp
Coconut – 3 tsp, grated
Coriander Seeds – 3 tsp
Ginger Garlic Paste – 3 tsp
Oil – 4 tsp
Cardamom – a small piece
Cinnamon – 1 or 2
Clove Powder – a pinch or two
Fenugreek Seeds – few
Coconut pieces – few
Coriander Leaves – few
Garam Masala Powder as per taste
Method:
1. Dry roast the dry red chillies, coriander seeds, peppercorns, cumin seeds, mustard seeds, fenugreek seeds, grated coconut separately till golden.
2. Combine and grind them together with a little water to a fine paste.
3. Heat little oil in a large pan.
4. Saute the onions for a minute or two.
5. Add the ginger garlic paste and garam masala powder.
6. Stir well.
7. Add the tomatoes, salt, ground masala paste, curd and a little water.
8. Simmer for a few minutes and add the chicken.
9. Stir once or twice until chicken pieces are well coated with the masala.
10. Cover the pan with a lid and reduce flame to low.
11. Simmer for 20 to 30 minutes.
12. Keep stirring from time to time.
13. When the gravy turns thick and oil starts to float to the top, remove the pan from the flame.
14. Garnish with coriander leaves and chopped coconut pieces.
15. Serve with rice.
Note: If you want the gravy to be dry, cook till all moisture has evaporated.
Image credit: manuscrypts.com
Note: image is for illustration purposes only and may not be of the actual recipe.