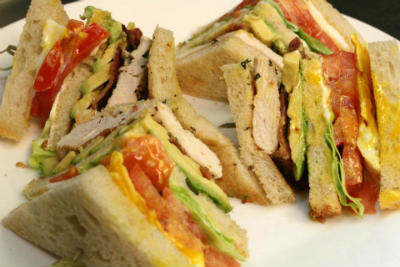 Ingredients:
Chicken – 125 gms, cooked, shredded
Mayonnaise – 2 tblsp
Salt – 1/2 tsp
Black Pepper Powder – 1/4 tsp
Tomato – 1, thinly sliced
Bread Slices – 4 to 8 (or as required)
Lettuce Leaves – few
Butter or Mayonnaise to spread
For the egg salad:
Eggs – 2, hard-boiled, chopped
Mayonnaise – 2 tblsp
Salt – 1/2 tsp
Black Pepper Powder – 1/4 tsp
Method:
1. Mix all the egg salad ingredients in a bowl. Keep aside until required.
2. Mix the shredded chicken, mayonnaise, salt and black pepper powder in another bowl.
3. Spread butter or mayo on the bread slices.
4. Place the sliced tomatoes on a bread slice.
5. Spread a portion of the chicken mixture and place another bread slice on top.
6. Add some lettuce and a portion of the egg salad mixture.
7. Cover with another bread slice and slice them into triangles.
8. Repeat with the remaining ingredients to make sandwiches.
9. Secure the sliced sandwiches with a toothpick.
10. Serve with french fries or potato wedges.
image credit: rsvlts.com