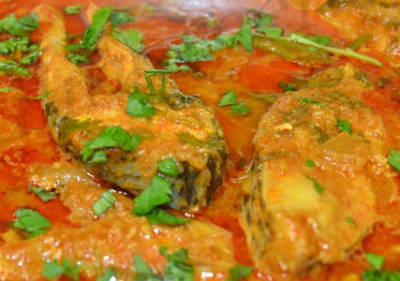 Ingredients:
Rohu – 500 gms (or any other freshwater fish), cleaned, cut into bite-sized pieces, washed, drained
Coriander Leaves – 2 tblsp, chopped
Onion – 1, chopped
Green Chillies – 2 to 3, chopped
Sesame Oil – 1 tblsp
Fenugreek Seeds – 1/4 tsp
Mustard Seeds – 1/2 tsp
Curry Leaves – few
Tomato Puree – 1/2 cup
Tamarind Extract – 2 tblsp
Jaggery – 1/4 tsp, grated
Salt – 1/2 tsp
Dry roast and Grind to a powder:
Cinnamon – 1/2 inch stick
Green Cardamoms – 2
Cloves – 2
For the marinade:
Ginger Garlic Paste – 1/2 tblsp
Turmeric Powder – 1/2 tsp
Red Chilli Powder – 1/2 tsp
Salt – 1/2 tsp
Coriander Powder – 1/2 tsp
Cumin Powder – 1/4 tsp
Sesame Oil – 1/2 tsp
Method:
1. Combine all the marinade ingredients in a bowl to a fine paste.
2. Add the fish pieces and mix well.
3. Cover and keep aside for 30 minutes to marinate.
4. Grind together the onions and green chillies to a coarse paste.
5. Heat 1 tblsp sesame oil in a frying pan.
6. Fry the marinated fish till light brown.
7. Remove and keep aside.
8. Add the mustard seeds, fenugreek seeds and curry to the pan.
9. Fry for 30 to 45 seconds.
10. Add the onion paste and stir.
11. Add the ground masala and mix.
12. Add the tomato puree, tamarind extract, jaggery and salt.
13. Simmer for 10 minutes till thick and reduced by a third.
14. Pour 1 cup of water and reduce flame.
15. Cook for 10 minutes and add the fried fish.
16. Allow it to simmer for another 10 minutes or till the fish is fully cooked.
17. Garnish with coriander leaves.
18. Serve hot with rice.
image credit: akanshaz.com