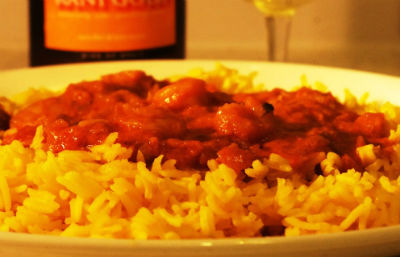 Ingredients:
Prawns – 500 gms, peeled, deveined, tails intact, washed, drained
Mangoes – 3, small, sweet and slightly sour, ripe, peeled, chopped
Oil – 1 tsp
Coconut Milk – 2 cups
Salt as per taste
For the masala:
Oil – 1 tsp
Ginger – 1/4 inch piece
Long Dry Red Chillies – 4
Round Dry Red Chillies – 4
Cumin Seeds – 1/4 tsp
Coriander Seeds – 1/2 tsp
Fennel Seeds – 1/4 tsp
Black Peppercorns – 1/4 tsp
Turmeric Powder – 1/4 tsp
Spring Onion – 1, chopped, white part only
Tamarind Extract – 1 to 2 tblsp
Salt – 1/4 tsp
For tempering:
Oil – 1 tsp
Dry Red Chillies – 2
Coriander Leaves – few, chopped
Spring Onions – few, chopped, green part only
Method:
1. Heat oil in a frying pan for the masala.
2. Fry the ginger for a minute.
3. Add the red chillies, cumin seeds, coriander seeds, fennel seeds, black peppercorns and turmeric powder.
4. Stir-fry for 2 minutes and remove the pan from heat.
5. Cool and then grind to a coarse paste.
6. Heat oil in a pan.
7. Add the ground paste with little water and fry for 2 minutes.
8. Add the chopped mangoes and cook, covered, for another 2 to 3 minutes or till the mangoes become pulpy.
9. Reduce flame to low and add the coconut milk.
10. Stir gently to mix well.
11. Cover and cook for 20 to 30 minutes.
12. Add the prawns and cook for 5 minutes.
13. Switch off the flame and keep covered for another 2 to 3 minutes.
14. Heat oil for tempering and fry the tempering ingredients.
15. Add to the curry and remove.
16. Serve hot with rice.