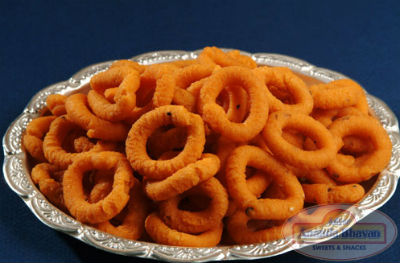 Ingredients:
Rice – 1 kg
Bengal Gram Dal – 100 gms
Moong Dal – 100 gms
Asafoetida Powder – 1/2 tsp
Ghee – 25 gms
Salt as per taste
Method:
1. Soak the rice and dals separately for 30 minutes.
2. Drain and spread them on a white cloth to dry, separately.
3. Heat a pan over medium flame.
4. Dry roast the rice and dals separately.
5. Mix and grind them together.
6. Add ghee, asafoetida powder, salt and enough water.
7. Knead them well.
8. Make small lemon sized balls and pull them lengthwise.
9. Shape these into small rings and keep aside.
10. Heat oil for frying over medium flame.
11. Fry these rings till golden.
12. Drain excess oil and serve.
13. Store them in an airtight container.
Tip: You can also use a "Murukku Press" at step 8.
image credit: Adyar Anandha Bhavan (A2B)