Used since the age of Vedas, Paneer is the most basic and inescapable item of an Indian kitchen. Various recipes of paneer such as matar paneer, rajma paneer, paneer khurchan, paneer pav bhaji, paneer capsicum curry, palak paneer, tomato paneer, etc. have been cooked, tasted and relished in different parts of India from centuries.
Paneer Butter Masala is one of the most popular side dishes eaten with roti, paratha, pulao or simple rice. The rich makhani or tomato gravy along with fresh paneer cubes is exactly what you need to spice-up your meals. The milky chunks drenched in stimulating spices tickle your taste buds right from the first bite. If cooked well, it can very well be an alternative to non-vegetarian recipes, especially for the vegetarians.
Besides its sumptuous taste, it provides numerous health benefits too. Made from milk, paneer is endowed with the natural goodness of milk. Iron, calcium, protein, manganese, etc. are present in a surplus amount in Paneer.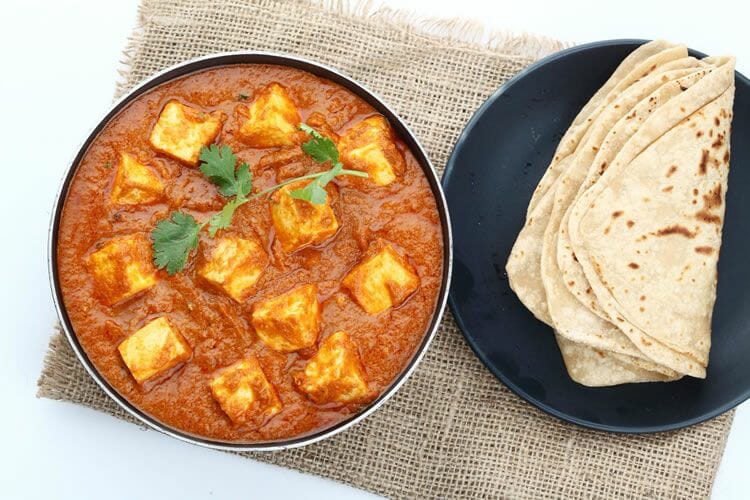 Butter makes the paneer taste more delectable and enhances the health benefits of this recipe as well. Rich nutrients and calories of butter get absorbed in paneer while it is fried in it.
If you can even consume one or two cubes of raw paneer, it will make your bones and teeth strong as it is rich in calcium. The presence of folate makes it rich in B-Complex vitamins that play an important role in producing RBCs in your blood.
Paneer Butter Masala is the best option for you if don't like paneer much but don't want to miss the nutrients provided by it either. You can simply grate the paneer and add it over delicious and buttery tomato gravy. Add some peas and sprinkle some chopped coriander leaves on top. Experience the rich aroma and flavor of the hot curry. All these factors make this recipe worth giving a try!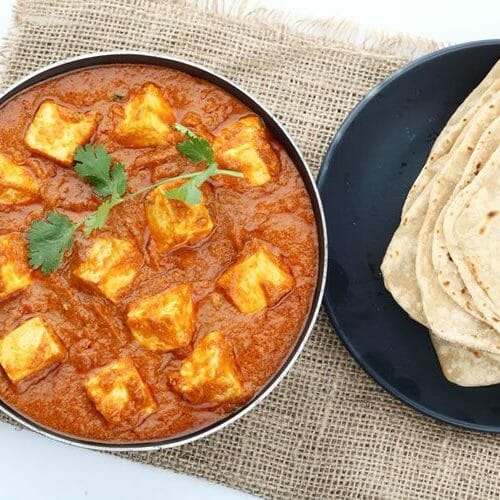 Paneer Butter Masala

Recipe

Paneer butter masala is one of the most popular side dishes eaten with roti, paratha, pulao or simple rice.
Ingredients for
Paneer Butter Masala
200

gms

Paneer

cubed

2

cups

Peas

shelled, boiled

4

nos

Tomatoes

finely chopped

2

tsp

Ginger

grated

1

tsp

Coriander Seeds

powdered

1/2

tsp

Turmeric Powder

2

tsp

Sugar

2

tsp

Red Chilli Powder

4

tsp

Tamarind Extract

1 1/2

tblsp

Fresh Cream

5

nos

Green Chillies

finely chopped

1

tsp

Cumin Seeds

powdered

2

tsp

Garam Masala Powder

6

tblsp

Oil

2

tblsp

Butter

to garnish
How to make
Paneer Butter Masala
Combine the ginger, green chillies, tamarind extract and tomato in a blender.

Blend to a puree and keep aside.

Heat a pan over medium flame.

Fry the paneer pieces with a pinch of salt and turmeric powder. Reserve.

Heat oil in a pan over medium flame.

Add the tomato puree and cook for a minute or two.

Add the turmeric powder, coriander powder, red chilli powder, cumin powder and garam masala powder.

Stir-fry until the oil starts to separate.

Reduce flame to low and cook.

Add the paneer pieces and pour 2 cups of water.

Add the green peas and cover the pan with a lid.

Simmer for a few minutes and remove from flame.

Garnish with coriander leaves and butter.

Serve as a side dish with roti or naan.
This recipe of Paneer Butter Masala is without onions.