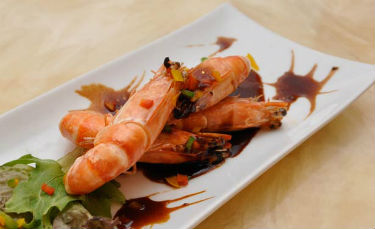 Ingredients:
Tiger Prawns – 4 to 5, washed, shelled, deveined, tail intact
Ginger – 1/2 inch piece
Garlic – 4 cloves
Green Chillies – 1 to 2
Feni – 1 tblsp (a very popular drink in Goa)
Egg – 1/2, beaten
Breadcrumbs
Oil for frying
Salt as per taste
Flour as required – spread out on a plate
Lime wedges for garnish
Method:
1. Slit the prawns carefully and flatten with a knife.
2. Combine the ginger, garlic and green chillies. Grind them to a paste.
3. Mix this with salt and feni.
4. Apply this mixture to both sides of prawns and keep aside for 30 minutes.
5. Now roll the prawns in flour and dip them in beaten egg.
6. Roll them in breadcrumbs and ensure the prawns are coated evenly.
7. Heat oil in a pan on medium flame and shallow fry the prawns till golden brown.
8. Remove and drain excess oil.
9. Serve hot with lime wedges.
Note: image is for illustration purposes only and not that of the actual recipe.
Image credit: kuali