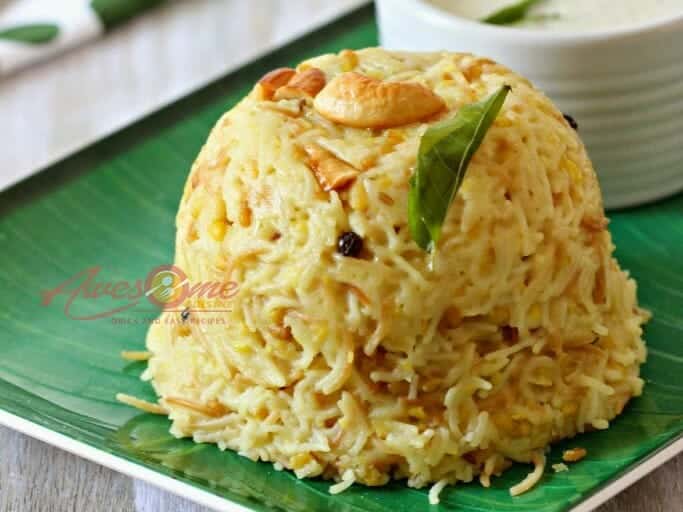 Ingredients:
Roasted Vermicelli – 1 cup
Water – 3 cups
Green Gram Dal – 1/4 cup
Asafoetida as per taste
Salt as per taste
Ghee – 2 tblsp
Turmeric Powder – 1/4 tsp
Cashewnuts – 10
For Masala Powder:
Red Chillies – 2
Coriander Seeds (Dhania) – 1 tsp
Cinnamon – 1 small piece
Cardamom – 2
Cloves – 2
Cumin Seeds – 1/2 tsp
Pepper – 8
Method:
Fry the masala powder ingredients using 1/2 tsp of ghee and grind it to a powder.
Cook the green gram dal using 1 cup of water until dal splits.
Heat ghee in a pan.
Add chillies, cinnamon, cloves, cardamom, coriander, cumin seeds and pepper.
Fry well and powder it in a mixie.
Pour 2 cups of hot water on top of the cooked dal.
Add salt, asafoetida, turmeric powder, fried vermicelli, masala powder and 2 tsp of ghee.
Close the lid and allow to cook until vermicelli turns soft.
Mix well and transfer to a serving bowl.
Heat the remaining ghee and fry the cashewnuts till golden brown.
Pour it on top of the pongal.
Serve hot.