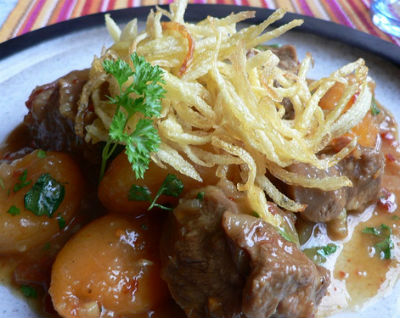 Ingredients:
Lamb – 500 gms, cut
Dried Apricots – 250 gms, deseeded, soaked for 4 hours
Vegetable Oil – 2 tbsp
Onions – 2 to 3, chopped
Grind to a Paste:
Garlic – 6 to 8 cloves
Ginger – 1 two inch piece
Salt to taste
Cinnamon – 1 two inch stick
Sugar to taste
Method:
1. Heat the oil in a kadai.
2. Saute the onions till golden brown.
3. Add the ginger garlic paste and saute for 5 to 8 minutes.
4. Add the lamb, salt and cinnamon stick.
5. Saute for a few minutes.
6. Add enough water to cook the lamb till tender.
7. In another pan, brown the sugar.
8. Add the apricots with the soaked water.
9. Bring the mixture to the boil.
10. Lower heat and cook till the apricots turn soft.
11. Mix the apricot mixture with the cooked lamb.
12. Cook for a few minutes more.
13. Serve hot.