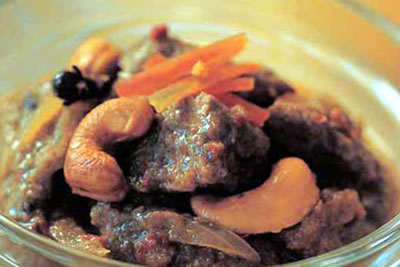 Ingredients:
Lamb – 350 gms, cubed
Onion – 1, small, peeled, sliced
Tomato – 1, diced
Curry Powder – 3/4 tblsp
Garam Masala Powder – 1 tsp
Coriander Powder – 1/2 tblsp
Water – 1 cup
Cashew Nuts – 1/4 cup, dry roasted, unsalted
Salt as per taste
Oil – 2 tblsp
Cardamoms – 3
Cinnamon – 1 stick
Cloves – 3
Fennel Seeds – 1/2 tsp
Grind together:
Onion – 1, sliced
Ginger – 1/2 inch piece
Garlic – 1 clove
Black Peppercorns – 1/2 tsp
Curry Leaves – 1 sprig, chopped
Dry Red Chillies – 2, chopped
Mint Leaves – 1/4 cup, chopped
Coriander Leaves – 1/4 cup, chopped
Method:
1. Heat oil in a pan over medium flame.
2. Fry the cinnamon, cardamoms, cloves and fennel seeds for a minute.
3. Add the onions and tomatoes.
4. Stir-fry until onions turn golden brown.
5. Add the ground masala paste, curry powder, garam masala powder and coriander powder.
6. Pour water and add the lamb pieces.
7. Simmer for 30 minutes or until the lamb pieces are tender and most of the liquid has evaporated.
8. Add salt and stir to mix well.
9. Garnish with cashew nuts.
10. Serve hot with rice.