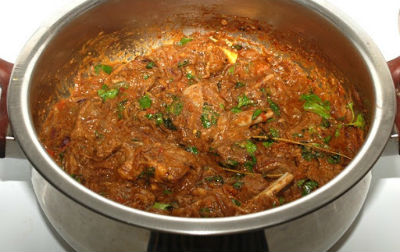 Ingredients:
Lamb – 750 gms, cut into pieces
Vegetable Oil – 1/2 cup
Onions – 3, large, finely sliced lengthwise
Ginger Garlic Paste – 2 tsp
Red Chilli Powder – 1 1/2 tsp
Turmeric Powder – 1/4 tsp
Salt to Taste
Tomatoes – 4, large finely sliced
Potatoes – 250 gms, peeled, cut lengthwise
Green Coriander – 1 tbsp, finely chopped
Method:
1. Heat the oil in a large pan.
2. Add the onions.
3. Saute till brown.
4. Add the ginger garlic paste, red chilli powder, turmeric powder and salt.
5. Saute for about 1 minute.
6. Add the tomatoes and let the mixture simmer till it is absolutely dry.
7. Add the lamb and saute for some time.
8. Gradually add about 3 cups water and cook till the lamb is almost done.
9. Add the potatoes and cook till tender.
10. Garnish with green coriander.
11. Serve hot with steamed rice.
Image credit: yummy o yummy
Subscribe to our Newsletter
Receive the latest recipes & kitchen tips !